This is a quick initial review of a new ointment.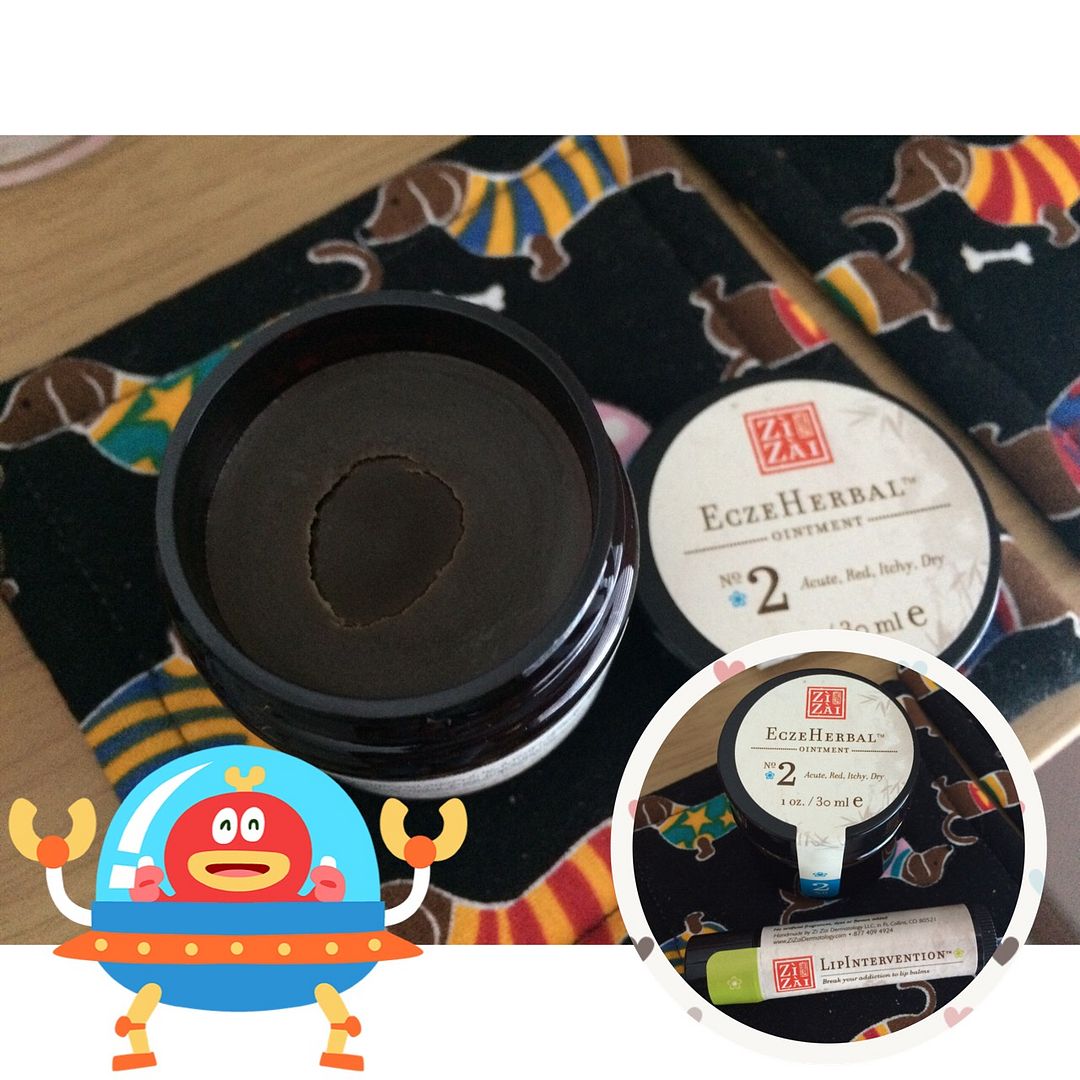 I don't think I have mention this on this blog, but I am a big fan of Chinese herbal... but mostly internally. I had a very bad "rash" ON MY FACE (it was many years ago, the details are kind of blurry now... but you will get the gist) and very visible. The gist is I went to a Chinese doctor (and was forced to use my poor mandarin) and drank herbal tea for awhile and the rash was
completely
gone (took awhile, but it was slowly disappearing). I believe God created different kind of herb for various reasons, so why not utilize them and enjoy them? Every time I see the doc, he would ask me how I was and then he would pick a combination of herbs for me to make into tea. The tea is smelly and taste horrible and it takes a bit longer to work. But it works!
Anyway, I came across
Zi Zai Dermatology
自在 via Instagram (I think from the hashtag "eczemasucks". Ha!). I ordered the
#2 eczema ointment
.
Detail from the web:
This ointment is specially formulated according to the Traditional Chinese Medicine (TCM) pattern known as Heat in the Blood with Fire Toxins and Wind. From the perspective of TCM, the herbs in this ointment Clear Heat, Cool Blood, Dry Damp, Eliminate Wind and Resolve Toxins. It is specifically designed for cases where redness, dryness and itching are more predominant than oozing (compared to the EczeHerbal™ 1 formula). This phase of eczema is typically seen in infants and children.*


Ingredients:



Organic Extra Virgin Olive Oil
Unfiltered Colorado Beeswax
Shipping time is quite fast and I tried it last night. I am very happy with the texture--it is not too greasy (because most ointment leaves my hands feeling greasy and I don't like it... it's the same thing with lip balm) though it smells herb-y. And I think it works well. I am mostly using it on my hands (Dyshidrotic Eczema). They are healing once again. But they can get very itchy at times and I still have some blisters and all the cuts I made from scratching. So there are redness, itchiness and they are dry and seems to be having a hard time retaining moisture. I used it last night and this morning and seems to calm my itchiness.
Oh and I did order the lip balm, but somehow it appeared to be free on my invoice, so I didn't have to pay for it (yay and thank you). Haven't try it yet, so we shall see.
Overall I am very happy with my purchase. :)
Just found this. Good read.
Updated on 7/5/15
I have the following observation:
I am almost at the bottom of my 1oz jar and I found there are lots of sediments at the bottom and it gets gritty and you can see little bits (more like sand).
Since it gets gritty, I opened my 2 oz jar and the color of those are not the same. The 1 oz jar is brown and the 2 oz jar is green.